James Hamilton, 2nd Marquis of Hamilton.
S 2.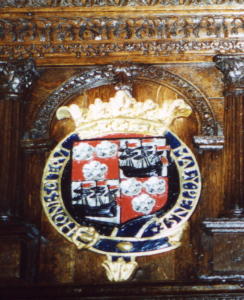 Quarterly 1st and 4th Gules three cinquefoils Ermine, 2nd and 3rd Argent a ship her sails trussed up Sable.

The first Lord Hamilton married the widowed sister of James III about 1474. His son James, the second Lord Hamilton by Princess Mary, established the line which was often nearest heirs-presumptive to the throne. He was created earl of Arran because the island had come to his royal mother's family, the Stewarts, through their descent from the house of Angus, son of Somerled, King of the Isles, a Scandinavian. His Gaelic and Norse ancestry is marked by the black galley on the Coat of Arms. The second marquis was a Knight of the Garter as can be seen from the Garter shown above, encircling the Coat of Arms.

The Motto of the Order is "Honi soit qui mal y pense" that is "Evil be to him who evil thinks".
Page 11.