Thomas Hamilton, 1st Earl of Haddington.


S 3.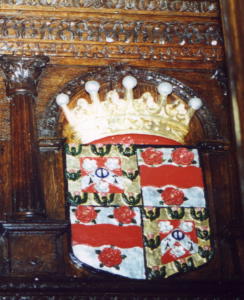 Quarterly 1st and 4th Gules on a chevron between three cinquefoils Argent, a buckle Azure between two spots Ermine, all within a bordure Or charged with eight thistles Vert; 2nd and 3rd Argent a Fess wavy between three roses Gules barbed and seeded Proper.

The Earls of Haddington were cadets of the Hamilton family, and were very minor figures in national politics, unlike their relatives. Their main claim to memory is as keepers of the Royal Park at Holyrood, where their quarrying activities caused a special Act of Parliament to recover it from them was passed in the nineteenth century.
Page 12.