Andrew Leslie, 5th Earl of Rothes.
S 5.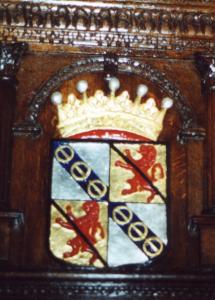 Quarterly 1st and 4th Argent on a bend Azure three buckles Or: 2nd and 3rd Or a lion rampant Gules debruised of a ribbon Sable.

The red lion blotted out by a black ribbon is the emblem of the Abernethy family. It is possible that the right to the variant of the royal Arms derived from the fact that Lord Abernethy was entitled to carry the crown at a Coronation. This right came through his female line ancestors who were the hereditary Abbots of Abernethy.
Page 14.