James Borthwick of Newbyres.
S 8.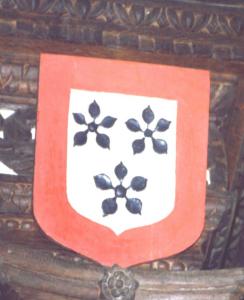 Argent three cinquefoils Vert within a Bordure Gules.
(There is dispute about this Blazon for other opinion says the cinquefoile are SABLE and the bordure might not be GULES).
The version shown above is the one shown before the 1990 restoration.
James Borthwick and his successors appear to be individuals who have escaped the notice of history, for I have been unable to find any reference to them so far. The simplicity of the Arms suggest that they are quite old. Not every family had a hand on the tiller of affairs and were quite content to live in comparative obscurity managing their own affairs and keeping their heads, sometimes literally.
Page 16.