Sir John Crawfurd of Kilbirnie.
D 1.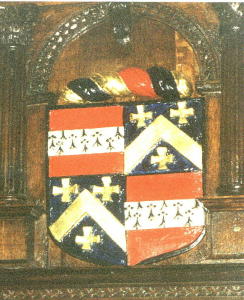 Quarterly 1st and 4th Gules a fess Ermine, 2nd and 3rd Azure, a chevron between three crosses pattée Or.

Sir John Crawfurd was knighted by King Charles I, and to mark the honour he had the Gallery built in 1642. The Aisle consists of a burial vault, the Gallery itself and a retiring room behind, where a meal could be served between diets of worship. The small apartment behind the gallery may well have been used for more intimate purposes.

It is thought that Italian craftsmen may have been engaged to do the carving.
Page 2.